Pipe Clamp Manufacturer & Supplier | Stainless steel | Cast Iron
  We are a Pipe clamp manufacturer & supplier in China. We can supply different materials pipe clamps,such as Stainless steel Pipe clamp, cast iron Pipe clamp, aluminum Pipe clamp. Carbon Steel Clamp ,Ductile Iron Clamp and other pipe clamp parts. Clamps can reduce vibration and noise,enhance the sealing ability. Clamp products applications are wide and unlimited. Special customized clamps also can be ODM and OEM as per customers' needs.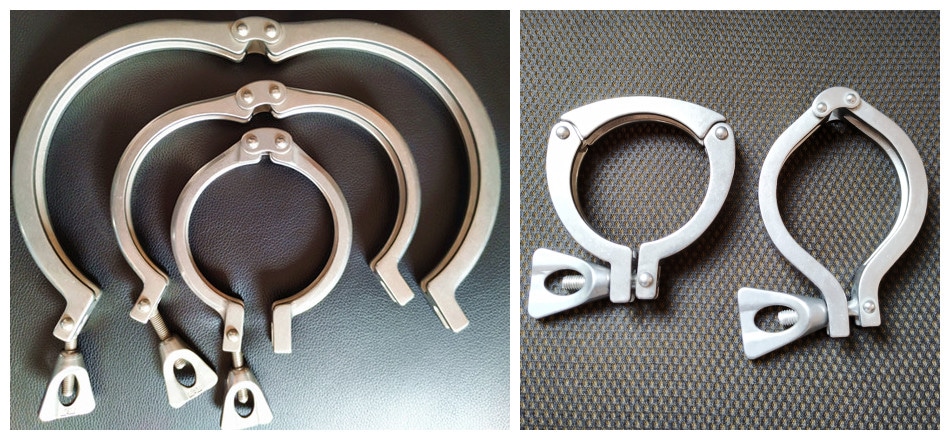 What is Pipe clamp ?
  Pipe clamps are the device of fixing on pipe or tube.It is suitable for the fixing of light, medium-weight and heavy pipelines made from different materials.It can be defined as the support mechanism for suspended pipes. The pipe clamp ensur all pipes are fixed securely and can be used in installing or uninstalling.
  Pipe clamps fall under the category of pipe fasteners and are widely used to serve the purpose of securing piping in a variety of installations–especially those concerned with construction and plumbing.
  Pipe clamps come in different sizes, materials and types, with each type having unique mechanical, thermal and electrical properties. Some common types of pipe clamps are listed below.
Pipe Clamp Classification
By shape. Full circle heavy pipe clamp. Full round pipe clamp. Long head to half type pipe clamp. Short head to half type pipe clamp. Rotate the pipe clamp. Rotating with a felt clamp. J-type pipe clamps, etc. Double bolt pipe clamp. Galvanized double hole pipe clamp. Three-hole pipe clamp. Two-piece pipe clamp, sleeve pipe clamp
  2. By material. Plastic ABS pipe clamps. Aluminum alloy pipe clamps. Stainless steel pipe clamps. Carbon steel pipe clamps, Cast Iron pipe clamps etc.

3.By functions:
| | |
| --- | --- |
| Rigid Clamps | Rigid clamps are usually made from hard iron or steel. It makes these clamps suitable for fixture building and allows fast locking and unlocking. Pipes can easily be inserted into these clamps and locked to an accurate position. Rigid clamps closely resemble traditional styled pipe clamps and are ideal for minimizing leakage. Rigid clamps are often used in the construction of milling and shaping machines. |
| Adjustable Clamps | Steel, aluminum and plastic often comprise the base material for these clamps. The biggest advantage of adjustable clamps is that they can be used for a wide range of pipe sizes. The size of the clamp can be changed easily in accordance to the diameter of the pipe by tightening or loosening the screw attached to the clamp. This allows the clamp to be reused for another pipe which has a different diameter, hence making it economical to buy. |
| Swivel Crossover Clamps | Swivel crossover clamps generally consists of a couple of half fittings which are bolted together. This feature of swivel crossover clamps allows full rotation of the pipes to any desired angle between 0 and 360, making them ideal for crossbracing. These pipe clamps are generally easy to install and operate and can be used to build racks, railings and other structures. Moreover, they can be added on to existing pipe structures easily without undergoing the hassle of dismantling them. |
| Standard pipe clamps |  Standard clamps are typically fixed using two screws – one on either side of the clamp. They can be lined or unlined, depending on the application and there tends to be a wide range of sizes to choose from.  Best for straight-forward installations of metal or plastic pipes. |
| Cushioned Clamps | Cushioned clamps have a unique long-lasting and protective cushion that allows protection from marring and corrosion. These clamps can be used for a variety of pipe surfaces, such as wood, metal and plastic.But they are specially recommended for the clamping and suspension of non-insulated pipes. Using this type often makes clamping easy as it allows a slight difference in pipe size to be compensated due to the flexibility of the cushion. Cushioned clamps prevent corrosion and absorb vibrations and shock. Additionally, these clamps provide noise reduction which may be beneficial during construction. Cushioned clamps are typically manufactured from steel and stainless steel and are easy to install. |
| U-bolt Clamps | Available to fit a range of diameter sizes, u-bolt clamps have 4 components, namely the saddle, U-bolt and 2 hex nuts. For proper installation, the nuts of the clamp require tightening. Once that is done, these clamps can sustain a tremendous amount of weight. U-bolt pipe clamps can be used to secure a pair of pipes or tubes together and are often referred to as saddle clamps. U-bolt clamps are manufactured from steel, aluminum and malleable iron castings. |
| Heavy duty pipe clamps | Heavy duty clamps have a high safe working load, so are designed for use where a heavy load support is required. They can be used indoors and outdoors and are available both with and without lining. They have modern features to make them easier to fit than traditional clamps. Take a look at how our heavy duty pipe supports were used to secure district heating pipes to the underside of a bridge. Best for safe fixing of heavy load pipework indoors or outdoors. |
| Pipe clamps with rubber lining | Some applications require pipe clamps to have a rubber lining. This is often a requirement due to the material or temperature of the pipe. Lined clamps also offer noise insulating properties. |
Advantages of Pipe Clamp
  We have a vast range of pipe clamps and brackets for fixing pipework, that covers 99% of all known pipe sizes and pipe types. Our pipe clamps has below advantages:
  1.High corrosion resistance
  Corrosive environments grade is from C1 to C5. C5 is the highest levels of corrosion expected.Our pipe clamps cast and fixings that are suitable for use in C1-C4 environments.Especially our stainless steel pipe clamp.
  2. Easy install and uninstalling.
  We can produce as client's request or design it as customer's idea.To ensure it is easily in install and uninstalling to save time and cost.
  3. High technical support and design tools
  As a global company, we have invested in state of the art technology which allows us to be as accurate as possible when making calculations and designing effective pipe fixing installations for our customers.
  4. Extreme Quality Inspection
  In testing our pipe clamps,we are not only to test apperance, but also in-house test clamps to destruction. So we can ensure the quality!