Valve Castings
The valve is used to change the passage section and the flow direction of the medium. It has the functions of diversion, cutoff, regulation, throttling, check, split or overflow relief. Valve castings are control components in pipeline fluid delivery systems. They come in a wide variety of sizes and sizes.
Valve castings are widely used in chemical, petrochemical, petroleum, paper, mining, electric power, liquefied petroleum gas, food, pharmaceutical, water supply and drainage, municipal, mechanical equipment,electronics industry,urban construction and other fields.
Our foundry is the reliable manufacturer and supplier for valve manufacturers all over the world. We can make all kinds of cast valve components for check valve, butterfly valve, ball valve, gate valve, control valve, globe valve, plug valve, ect. As a valve parts producer,we are professional in making all kinds of valve components, including cast valve body, cast valve disc, cast valve bonnet, cast valve flange, cast valve flange and other valve component castings.
The main types of valve castings
Gate Valve Castings
We can offer scale of Gate Valve Castings from our foundry. Steel gate valve castings can be used for steam, water, air, oil, gas, and non-acid fluids. These valve castings are specially designed to endure high temperatures and load. As per client's requirements,we can customize different gate valve castings.
Globe Valve Casting
Globe Valve Casting are widely used in in Pharmaceutical, Chemical, and petrochemicals industries.These industry has highly demand on Globe Valve Casting. As one of the best valve casting manufacturers,our product has Long-lasting and stable property.It is welcome by our customer because of its comfort of fitting, supreme tensile energy, and accurate engineering.
Ball Valves Casting
Ball Valves Casting is the most exported one in our foundry.It is accepted by our customers at reasonable prices,tursted quality. These castings are broadly used in railway industries for air dryer system with their hardy frame, greater services, and conventional dimensions
Valve Casting images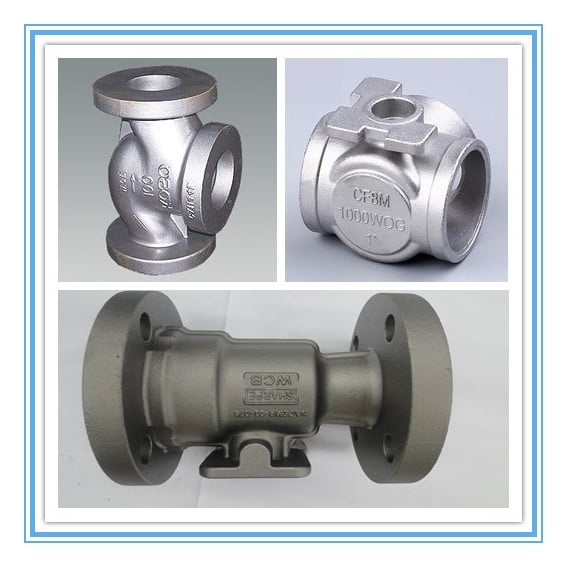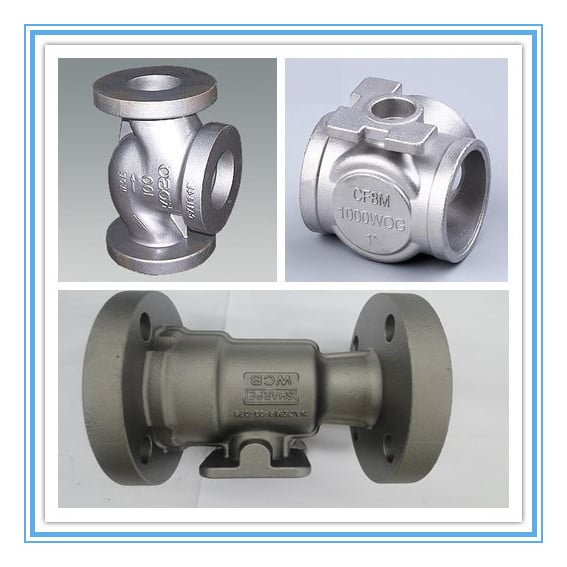 As per the material specification and dimensions of valve casting parts, we can make them in different casting process:
Process 1:
Sand Casting: Also a casting process for valve casting parts. Sand casting is suitable for both steel and iron valve castings. Compare with lost foam and lost wax castings, it is more suitable to make larger valve components, so normally, we will need to leave more machining allowance for further machining operation. The max weight we can cast is around 2 tons per piece.
Process 2:
Lost Wax Casting: Is able to make cast steel valve components, like carbon steel, stainless steel, and other cast steel alloys. Lost wax casting is a precision casting method for valve components, so we can achieve good dimensions and tolerances, smoother surface. Stainless steel valve casting parts are widely used in silica sol casting process, which is another lost wax method. We can use this casting process for butterfly valves, ball valves, ect.
Process 3:
Lost Foam Casting: This casting method is more suitable for making precison cast iron valve parts, which can also get good surface finish and sizes, such net shape or near net shape valve castings will need no machining or just little machining allowance.
We believe that Your drawing + our technology = Satisfactory product
Materials of Valve Casting Parts are as following:
| | |
| --- | --- |
| Carbon Steel (mainly for high pressure valve castings) | WCA, WCB, ZG25, ZG200-350, ASTM A216 WCA/WCB/WCC, GS25. |
| Stainless Steel | SS304, SS316, PH17-4, ASTM A351 CF8/CF8M/CF3/CF3M, ZG0Cr18Ni9, zg0Cr18Ni12Mo2, ZG00Cr18Ni10. |
| Gray Iron | HT200, HT250, HT300, HT350,GG15, GG20, GG30, FC200, FC250, FC300, ASTM A48 CLASS NO.20,NO.25,NO.30, NO.35. |
| Ductile Iron | QT400-18, QT500-7, QT600-3,GGG40, GGG50,GGG60, FCD450-70, FCD400-15, FCD500-7, FCD600-3, ASTM A536 ( 60-40-18,65-45-12, 80-55-06). |
Stainless Steel Products Brief Introduction (Example)
Specification
Customized,customer Required,customer's Drawings,Samples
Material
Stainless steel
Application
Automobile, Agricultural machinery, Pipage,Furniture, Construction, Home appliances,Electronics,etc.
Process
Precision casting,Lost wax casting, Investment casting
Machining
CNC machining center, CNC lathe
Casting tolerance
IT5 – IT7,CT5-7
Machining tolerance
+/- 0.005mm,ISO2768-f,ISO-mk
Standard
DIN,AISI,SAE,ASTM,UNS,GOST,ISO,BS,EN,JIS
Heat treatment
Solid solution annealed,quench and tempering
Unit Weight
5g-100kg
Dimensions
<=800mm
Certificate
ISO9001, TS16949,ISO1400,RoHS
Finish
Polishing,Shoot blasting,Glass bead sand blasting,etc.
Quality control
FEMA,PPAP,APQP,Control Plan,MSA,
Certificates for all requirements
Test reports for every delivery
Service
Weekly report,Key node report,Any questions will be answered within 24 hours
Capabilities to supply valve castings
To supply finished valve casting parts,we have machining equipment as well (NC lathe, CNC, boring machine, drilling machine, ect) for different machining requirements. Besides, we also have hydraulic testing capability to ensure workable valve castings.
For large dimensions valve casting parts, to avoid casting defects, it is necessary to do magnetic particle testing and ultrasonic testing after casting.
In conclusion, you can enjoy lots of benefits to purchase valve casting parts from our foundry, like wide material selection, multiple casting methods, machining service, and so on. Once cooperating with us, you will feel lucky to cooperate with such a good supplier for our high quality and competitive prices. Even if you would like to source forged valve components, do not worry, we can also provide you forged valve parts from our another forging company. Just pls contact us once you have demands of valve components.
Q & A:
Q 1 : What about the leading time?
  A:Generally Speaking, the leading time is about 35 days. But please confirm the exact delivery time with us as different products and different quantity will have different leading time.
Q 2 : How to get a sample?
  A:Sample order is acceptable. Please contact with us and make sure what sample do you need. in general,It will take 25 days to finish your sample.
Q 3 :What value-added services we provide?
  1. offer 100 % test for all products(no extra charge).
  2. each new product provide four x ray film as a process assessment(no extra charge)
  3. patent,purchase quantity to 10 tons(no extra charge)
  4. valve body parts,hydraulic or pneumatic test(no extra charge)
Q 4 : How to place an order?
A: Leave a message,we can get your feedback immediately online.
Related Products: