Pump Casting
A pump is a mechanical device that moves fluids (liquids or gases, slurries.). Pump casting is a process that pump parts are designed and cast by different metals or metal alloys. It can provide greater strength and corrosion resistance products and deals with liquid substances.
We are one of the Pump Castings manufacturers and specialists in China. We can produce any pump castings or cast pump parts in our foundry. Most of them are exported to the USA, Germany, Japan and India, Pakistan markets.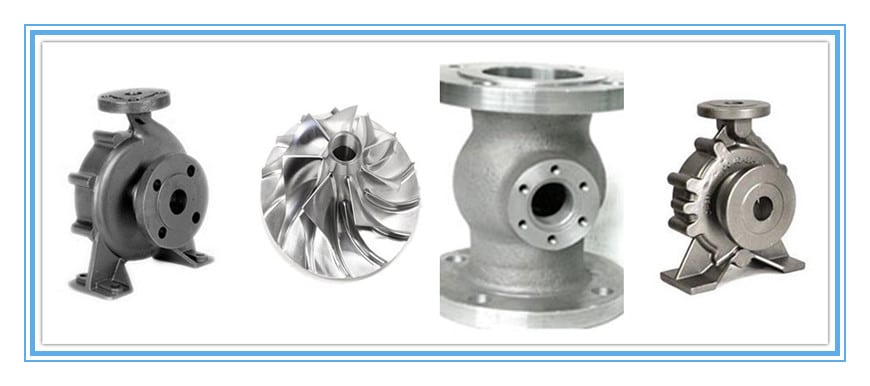 The Cast Pump Parts We offer
We offer cast pump body, pump housing, impeller casting, and pump mounting bracket. As well as other pump castings for the oilfield, oil extraction, and refining, petrochemical, water treatment industries, solid waste treatment, concrete construction, and so on.
We can use all kinds of metal materials based on customers' needs. Such as heat-resistant stainless steel, cast ductile iron, grey iron, or other alloy steel. And our QC team and spectrometer ensure precise alloy compositions.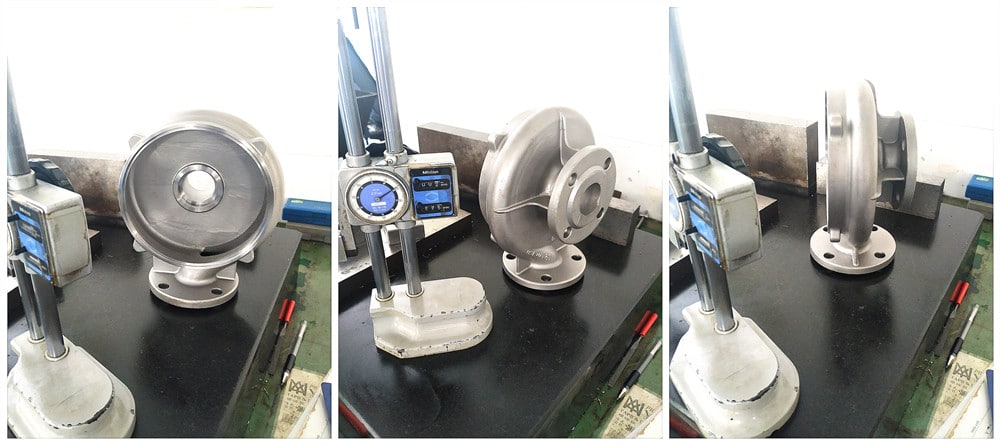 Pump Casting producing processes:
Pumps have plenty of shapes and sizes in different applications. From very large shape to very small. From handling gas function to handling liquid. From high-pressure requests to low pressure. From high volume capability to low volume. So pumps can be divided into different types. Such as Water Pumps, Hydraulic Pumps, Vacuum Pumps, Trash Pumps, Sump Pumps, etc.
For different pump types, we can use different casting processes. The main processes in our factory are below:
Lost wax casting
When pump castings are produced with stainless steel investment casting. Lost wax casting will be the first choice. The casting has a smooth surface and tight tolerances. ​It is like valve castings. The lost-wax process will reduce machining work and get even net shape castings. This can save time and cost by reducing most post-treatment and machining work.
Aluminum die casting:
The die casting process is suitable for thin wall thickness requirements and special aluminum alloy material. Such as mounting brackets. The aluminum die casting can reach high strength and perfect quality. When you have a wall thickness request, aluminum die casting is a better choice.
Sand casting:
If the pump casting chooses iron or cast iron as raw material. Sand casting will be a better solution. Because sand casting has the advantages of low cost and good inner quality. But Compare with investment casting, more machining allowance will be treated.
In general application, cast iron pumps are water pump casting. They are more used for water transporting. Stainless steel pumps are for transport corrosive media.
We will adopt quenching and tempering heat treatment processes. To improve the mechanical properties, hardness, wear resistance, and strength.
Q & A of our Pump Castings Foundry
Pump Casting manufacturer
JC casting is one of the pump casting manufacturers in China. We have our own pump casting foundry. Our pump casting experience and dedication to quality ensure that all pump parts are long-wearing and reliable. To create good working performance and low cost for clients. Each pump part can be customized to your specifications. For pump part casting questions and pricing call us today at 00 86 181 054 67890 or email [email protected]
Related Products: