Pump Castings Manufacturer
  Pump casting is a process that pump parts are designed and casted by different metals or metal alloys.It can provide greater strength and corrosion resistance products and deals with liquid substance.We are one of Pump Castings manufacturers and specialists in China.We can produce any pump castings or cast pump parts in our foundry.Most of them are exported to USA,German,Japan and India,Pakistan market.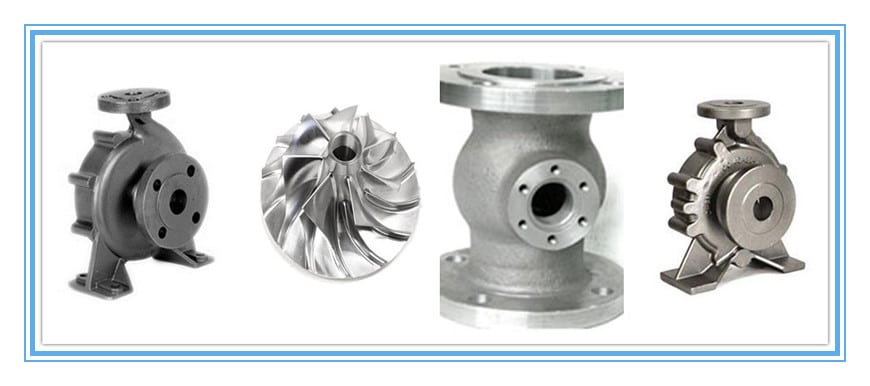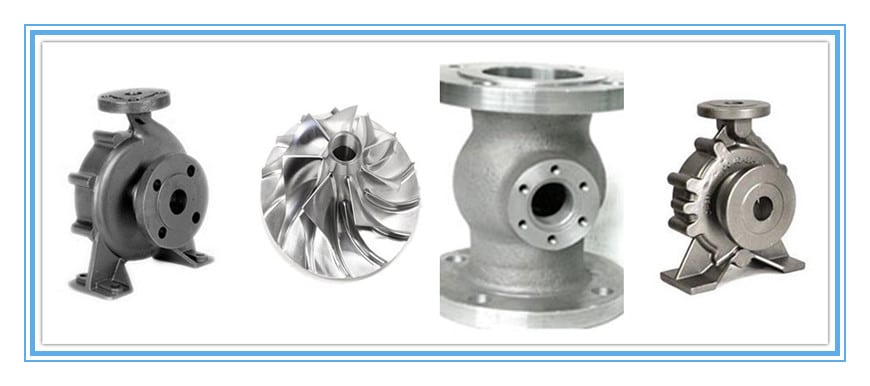 The Cast Pump Parts We offer
The cast pump parts we offer includes: cast pump body, impeller casting, pump housing, pump mounting bracket, as well as other pump castings for the oilfield,oil extraction and refining,petro-chemical and water treatment industries,the solid waste treatment.concrete construction,and so on. .We can use all kinds of cast alloys based on your demands. Such as heat-resistant stainless steel, cast ductile iron, grey iron, ect. Our spectrometer insures precise alloy compositions regardless of the material.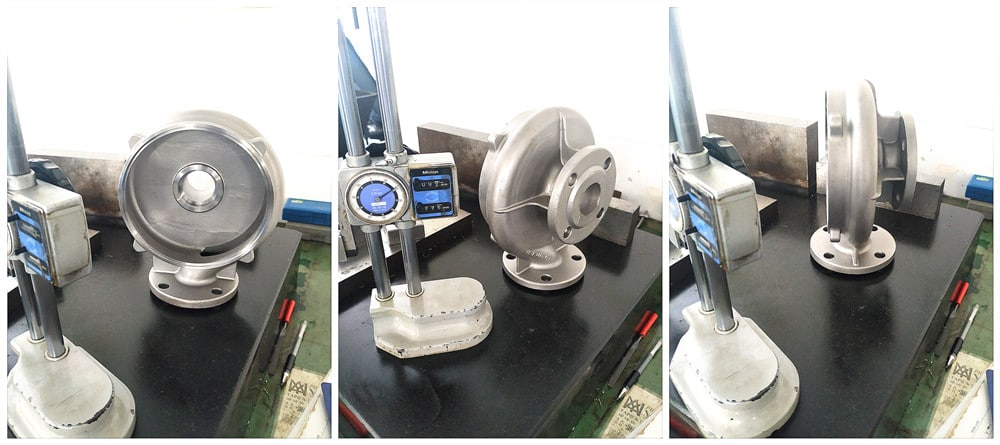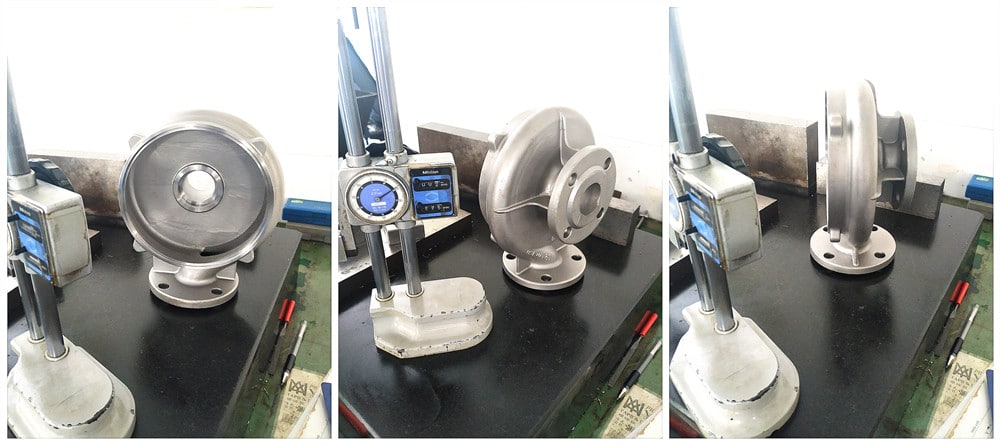 Pump Castings producing processes:
  Silica Sol Casting:
  When pump castings are designed with stainless steel. Silical sol casting will be the first choice for its smooth surface and tight tolerances. It is like valve castings.This process will help you to reduce machining work and get even net shape castings. And it can reduce post treatment and machining to save time and cost.
  Aluminum die casting:
  Die casting process is suitable for thin wall thickness requirment and special aluminum alloy material. By aluminum die casting, the high strength and the perfect quality can be achieved.Such as pump parts of mounting bracket.
  Sand casting:
  If take iron or cast iron as raw material for pump casting, sand casting can be choosed. Because of the advantages of sand casting is low cost and good inner quality.But Compare with investment casting, the more machining allowance will be treated. In general, cast iron pumps are generally used to transport water. Stainless steel pumps can transport corrosive media.
For example Aluminum die casting, our services we can do
  Service: OEM/ODM/Customized/Design
  Process: Die casting+ machining (if need) +surface treatment
  Surface treatment: Shot/sand blast, polishing, Surface passivation, Primer Painting, Powder coating, ED- Coating, Chromate Plating, zinc-plate, Dichromat coating, Finish Painting
  Drawing formation: Various type of 2D or 3D drawings are acceptable, such as JPG, PDF, DWG, DXF, IGS, STP, X_T, SLDPRT etc.
 Drawing format: Pro/E, AutoCAD, SOLIDWORK, CAXA, UG, CAD, CAM, CAE, STP, IGES, etc.
 Drawing: Provide by customer, or design according as the sample
 Delivery: 3-4 weeks for mold and 3-5 days for samples
  A. Sample and mold: 45-60 days
  B. Order: 30-45 days or to be negotiated with large order quantity
  Port:Qingdao
  Material: Aluminum
  Casting tolerance: ±0.02-0.05, or as drawing require.
  Machining tolerance: Up to IT7, Ra 0.8~3.2, or according to customer requirement
  Dimensions: Customized Sizes
  Name: OEM/ODM factory aluminum die casting
  Supply Ability:3000~10000pcs/day which according to product and mold
  Process:1 Incoming material inspection 2 Material 3 Melting 4 Die casting 5 Deburring 6 Process inspection 7 Machining 8 Cleaning 9 Appearance inspection 10 Leakage testing 11 Inspection parts after chromatin 12 Packaging 13 Inspecting for delivery 14 Delivery
  Mold: Design and produce by ourselves
  Application & serve: Metal Parts Solution for Vehicle, Agriculture machine, Construction Machine, transportation equipment, Valve and Pump system, such as engine bracket, truck chassis bracket, gear housing , gear cover, pulley, flange, connection pipe, pipe, hydraulic valve , valve housing ,Fitting , flange, wheel, fly wheel, oil pump housing, starter housing, coolant pump housing, transmission shaft , transmission gear, sprocket, chains etc.
Q & A of our Pump Castings Foundry
  1.Are you a manufacturer or trading company?Do you have your own factory?
  We are a professional manufacturer with over 22 years' export experience for designing and producing.Yes, we have two of our own TWO factories. 1 is foundry, 1 is CNC machine factory.
  2.How can I get some samples of Iron casting,cast ductile iron,cast grey iron part?
  If you need,we will offer you samples for free,but new customers are expected to pay express charge.
  3.Do you provide customized parts?
  Yes,Customers give us drawings and we will manufacture accordingly.
  4.Can you make castings based on our sample of Iron casting,cast ductile iron,cast grey iron and cast steel part?
  Yes,we can make measurement based on your samples to make drawings.
  5.I can't see the goods or tough the goods,how can I deal with the risk involved?
  Alibaba Trade Assurance. Sino Insurance. We have established the quality management system conforming to ISO 9001:2008.We are absolutely worth your trust.
  If you have any questions,please free time to contact me!
PS: About Pump
A pump is a machine that delivers or pressurizes a fluid. It transfers the mechanical energy of the prime mover or other external energy to the liquid, increasing the energy of the liquid.
  Because of the wide variety of applications, pumps have a plethora of shapes and sizes: from very large to very small, from handling gas to handling liquid, from high pressure to low pressure, and from high volume to low volume. So pumps can be seperated in different types according to its usage. Such as Water pump, Vacuum Pumps, Trash Pumps, Hydraulic Pumps, Sump Pumps,ect.
The pump is mainly used to transport liquids. Such as water, oil, acid and alkali, emulsion, suspoemulsion and liquid metal. As well as liquids, gas mixtures and liquids containing suspended solids.
Related Products: