3D printing patterns for the purpose of 3D printing investment casting are all the time more becoming the go-to answer for artists, applied scientists, and industry professionals the same. In the case of coming up with prototypes and brief production runs, making wax patterns out of molds that are 3D printed proposes a considerable time and price savings over old-style tooling approaches. On the other hand, 3D printing can also create molds with superior complexity and that too without increasing the overall costs.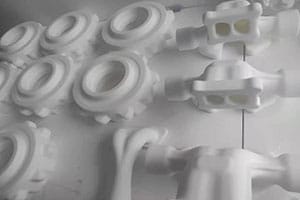 What is 3d Print Investment Casting?
3D Printing Investment Casting is 3D printing technology combined with the traditional investment casting process. It can replace the traditional wax pattern based on the resin matrix. Producing the patterns by 3D printing rapid prototyping directly can replace two steps in the traditional investment casting. They are the pressure type and suppressing the wax. It is also erase the pattern founded by printing in dewaxing and baking as in the wax pattern.
This new casting method has the advantages of low cost, simple process, high efficiency, and high precision of stainless steel castings in low volume. In addition, 3D printing is recommended especially when the design of the cast stainless steel parts is not confirmed.
What are the Advantages of 3d Printing Investment Casting?
3d Print Investment Casting has a lot of benefits of its own, especially to any manufacturing business. It can ease their workload a lot of times.
There are four main advantages of 3d Pint Investment Casting out of the many, and these are:
1. Freedom to Design however you like
3D printing permits you to generate more composite and difficult designs than an outdated investment casting procedure does. You can choose to pick any design possible on this planet, and that can be achieved by this process. The traditional method, however, limits your options a bit.
2. This Process is Cost-Effective
3D printing Investment Casting is said to be way more cost-effective than a traditional method. This happens due to many reasons like getting the final design ready in one go which results in no wastage, getting the materials needed readily available and at good prices, and many more.
3. This Process saves you a Lot of Time
With 3D printing Investment Casting, you can save a lot of time as you are getting the exact required design in one go. Apart from that, this method is faster than many traditional methods, so you don't have to wait for days to get your job done.
4. 3d Print Investment Casting Eases the Workload
This process can help in easing the workload of any manufacturing company a lot. It serves as a boon to the industry and eventually helps in growing the business. In comparison to the other traditional methods, this process is fairly easy to be done and takes a lot less time.
What Product is Suitable for 3d Print Investment Casting?
The most commonly used products in 3d Print Investment Casting are:
1. METAL:
The most famous product in the market of 3D printing is said to be metal, which can be used in these forms:
Stainless-steel
Bronze
Gold
Nickel
Aluminum
Titanium
2. CARBON FIBER:
Mixtures such as carbon fibre are made use of in 3D printers, acting as a top coating over plastic products. The drive is to strengthen the plastic. The mixture of carbon fibre over plastic has been in use in this industry for a very long time now.
Apart from these commonly used products, there are several others as well.
Who can Provide 3d Print Investment Casting?
If you are looking for a 3d Print Investment Casting provider in town and want your work to be done by the best, then you must contact JC casting. They can cater to all your 3d Print Investment Casting needs. Their team of professionals is highly equipped with all the needed knowledge and can help you in this. They have years-long experience in this field and a huge customer base that loves their work. JC casting can help you in making any design you want, no matter how complex it is. Get in touch with their customer care today.
If you are still confused about what services they offer then here's the list!
They provide many services and have huge customer bases who love their services. Apart from the consultation, they provide services like:
On-Demand Manufacturing of Specific Designs
Appearance Models for Your Products
Functional Prototyping so that you have a clear Idea
Low-Volume Production for limited needs
Rapid Prototyping for faster Production
Their consultation facility can give you a clearer look into all these services, and you can select the one that superlative fits your requirements.
Wrapping It All Up!
3d Print Investment Casting is an interesting job and also not time-consuming. As more and more artisans, applied scientists, and industrial professionals move towards this method, it has started gaining a lot of popularity. The procedure usually offers a better rate of accuracy and finishing on the surface in comparison to other casting processes; that is the reason it is so much preferred these days. It is often made use of in applications that are needed for low volume production and where the designs of the products keep on changing.
3D prinitng investment cast products