Stainless Steel Casting for Turbine Housing
The turbine housings are the housing that covers the turbine and guides the exhaust gasses into the turbine wheel.
The turbine housing has a spiral design and is typically made of steel or cast iron. It is used to determine how the turbo will perform. It is one of the most crucial parts of the turbocharger. The size and radial shape of the housing impact the performance of the turbocharger.
Turbine housings are also referred to as the "hot side" of the turbo because of their continuous exposure to hot exhaust gas. Turbine housings are very robust and manufactured using hi-temp materials with temperature ratings up to 1050° C.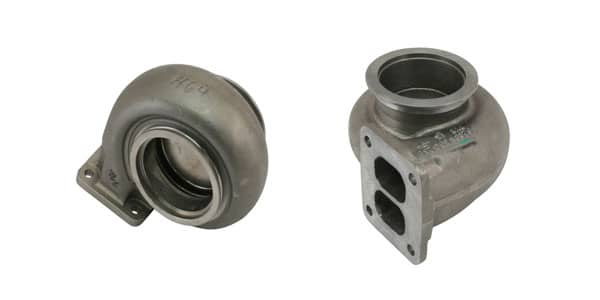 Advantages of Turbine Housing by Stainless Steel Casting
High dimensional accuracy
Good surface finish
Net shape or similar net shape. Less machining
How to Order Turbine Housings from Stainless Steel Investment Casting Companies
1.To check the investment casting company can produce the turbine housings or not? Did they have the experience to supply turbine housings for their clients? One experienced company is better than a fresh new foundry.
2.The buyer knows what kind of turbine housings casting they want? What are the types of materials, materials grades? For example, our stainless steel casting is more turbine housings supplying. But there are choices of stainless steel grades. So it is necessary to tell the manufacturers which stainless steel grade would be cast. Normally, the Nickel content of stainless steel material will affect the casting price.
3. For turbine housings, they are all customized as per the customer's drawings or samples. So, before sending an email inquiry, the buyer should prepare a drawing ready. Mark all critical dimensions and tolerances parameters in the drawing. And due to its complex shape, it is better to send 3d files either in stp or igs file, thus stainless steel casting manufacturers can check each dimension clearly.
4. For turbine housings, most of them are stainless steel casting. So need buyer make sure the casting method used in the potential supplier is stainless steel investment casting, not sand casting or others. Because the investment casting can provide higher dimensional accuracy and surface finish.
5. If you want to purchase finished turbine housings, it is better to supply both castings and finished drawings to suppliers. Meanwhile, make it clear that the stainless steel casting supplier can offer machining service either in-house or outsourcing.
Stainless steel Turbine Housing investment casting manufacturer
We are one Chinese stainless steel investment casting manufacturer and exporter from Dongying City. Our foundry has good experience to produce various kinds of iron casting, steel casting, non-ferrous casting parts. Besides the stainless steel turbine housing, for the turbocharger, we also supply the clients with other metal parts such as compressor housing, turbine impeller, compressor impeller. The processing way normally is investment casting and CNC machining. Our main clients are from Japan, UK, USA, Germany, Finland in different industries, such as automobile, marine, constructions, machinery. If you want to get a reliable investment casting foundry supplier in China. Contact us freely. You will win!