Glass fence spigot or stainless steel glass spigot is one kind of glass hardware which has base clamped function. It is widely used in construction glass installing,swimming pool,glass pool fence,glass railing. We are stainless steel glass spigot manufacturer from China.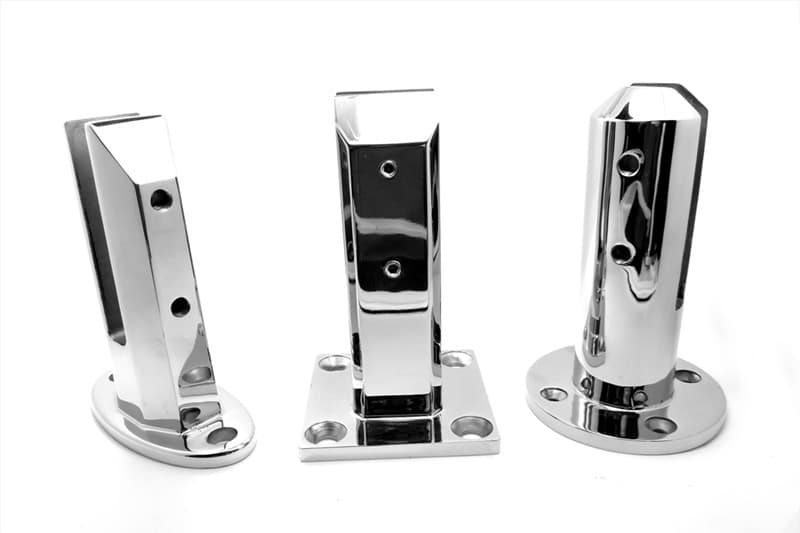 The materials for Casting of Stainless Steel Glass Spigot
The main materials for Casting of Stainless Steel Glass Spigot in our foundry is SS304, SS 316,SS 2205. SS304 Ni≥8,SS316 Ni≥10,Duplex2205 Cr≥21,high quality materialincludes low carbon,tough,durable,excellent resistance to corrosion,suitable for outdoor uses.
Stainless Steel Casting for Glass Spigots Advantages
| | |
| --- | --- |
| 1 | With stainless steel casting, a good size accuracy (CT5-CT6) and surface finish (Ra6.3) can be expected for glass spigots, and less machining or no machining will be operated. |
| 2 | There are a wide range of glass spigots. All these types of spider fittings can be realised by stainless steel casting with the workforce of moulds, which can not be replaced by other manufacturing processes. |
| 3 | Stainless steel casting is the copy process by casting glass spigots separately, which is more better to keep the consistency and control the quality in high production efficiency. |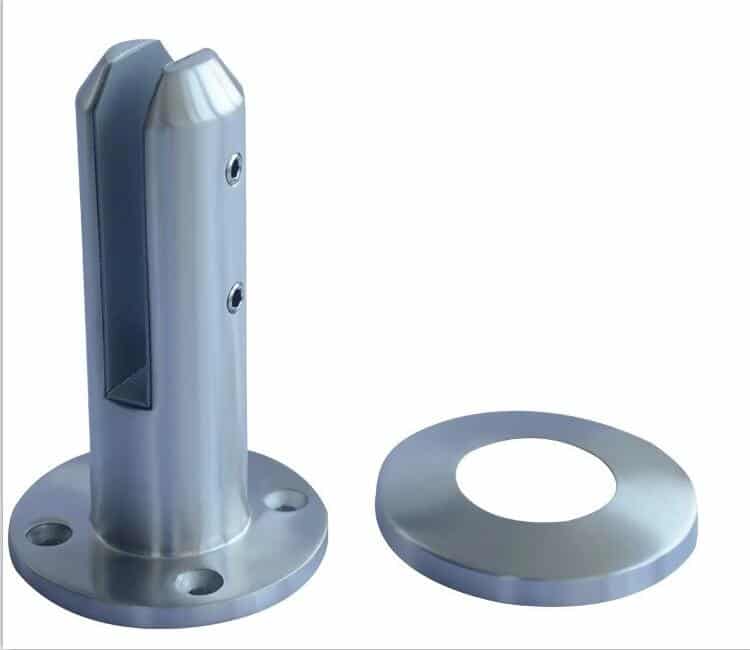 Here,take SS2205 as example. Duplex 2205 is a two-phase, ferritic, austenitic 22% chromium, 3% molybdenum, 5 to 6% nickel alloyed stainless steel. It is the most widely used duplex stainless steel casting grade and is characterized by high yield strength, double that of the standard austenitic stainless steel grades. It also demonstrates good fatigue strength, as well as outstanding resistance to stress corrosion cracking, crevice, pitting, erosion, and general corrosion in severe environments. So casting glass spigot with 2205 duplex stainless steel can achieve higher strength and better mechanical properties than 304/316 stainless steel.
Stainless Steel Glass Spigot Size:
| | | | |
| --- | --- | --- | --- |
| Spigot body | Dia49×151.5mm | grub screw | M10×12mm |
| 2pcs rubber spacer | 99×44×1.0mm | groove | 100×16mm |
| pressure plate | 71×28×3mm | base plate | φ100×8.5mm |
| cover plate | φ103×φ50×15mm | tapping screw | M6×60mm |
| | |
| --- | --- |
| Product Name | 2205 stainless steel bolt down precision casting spigot |
| Material | Duplex 2205 Stainless Steel |
| Characteristic | This type of glass spigot is base plate spigot |
| Surface | Satin Polished,Mirror Polished |
| Glass Thickness | 8-12mm glass panel |
| Weight | N.W:1.53KG,G.W:1.55KG |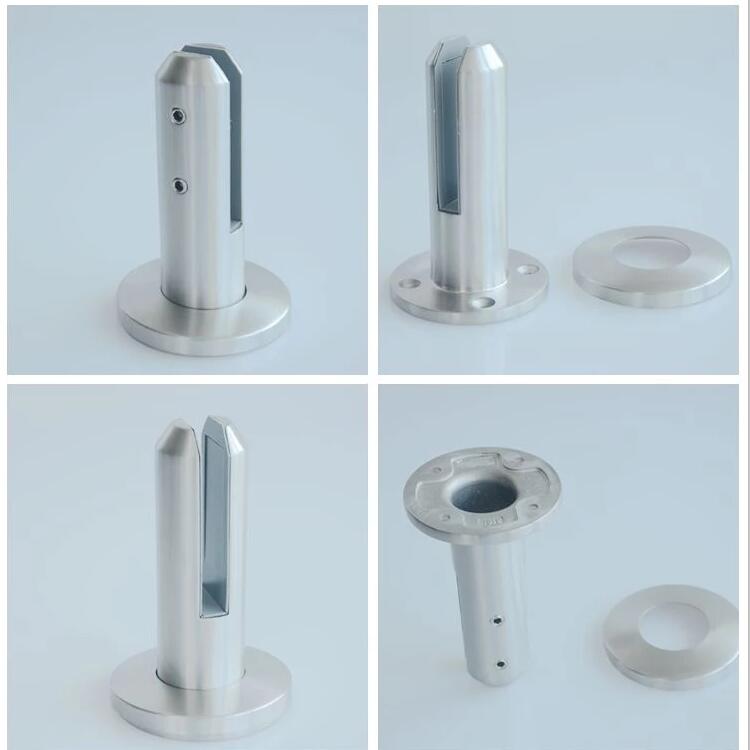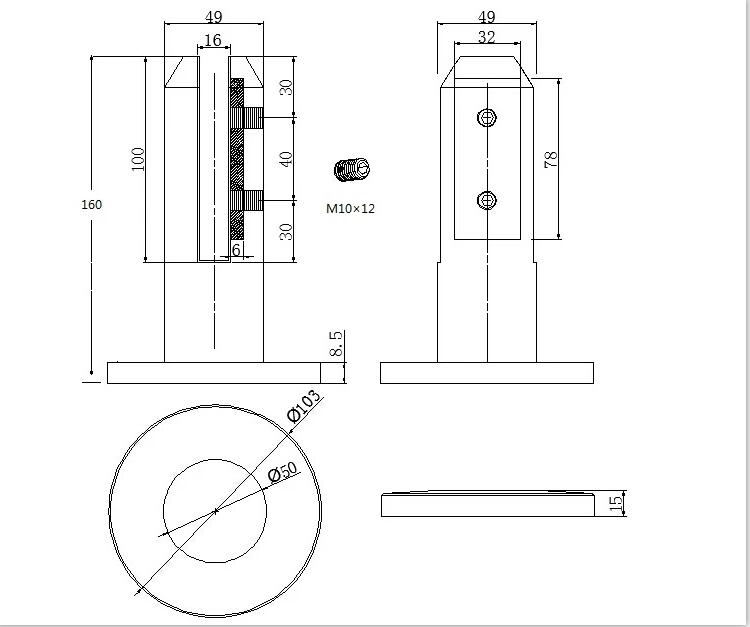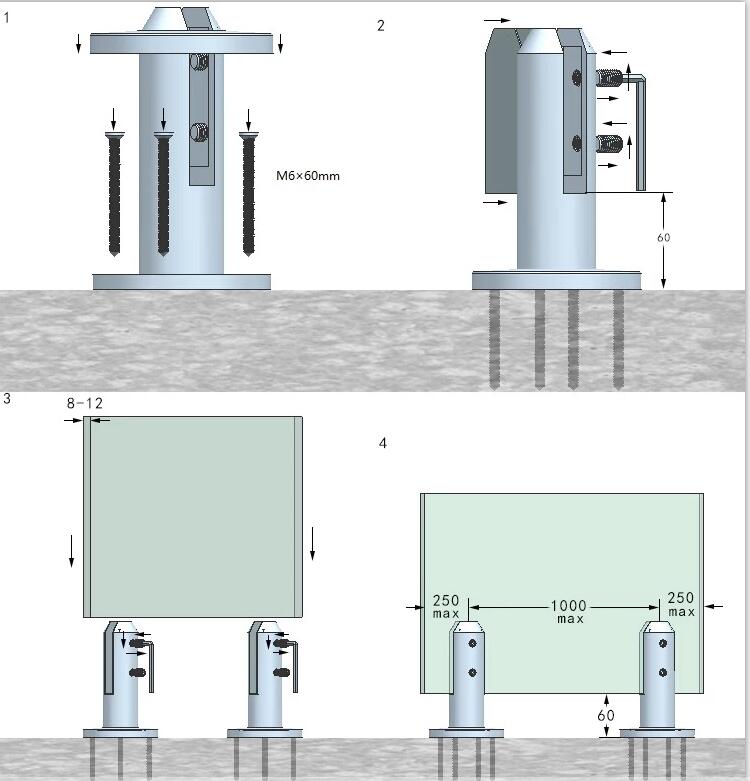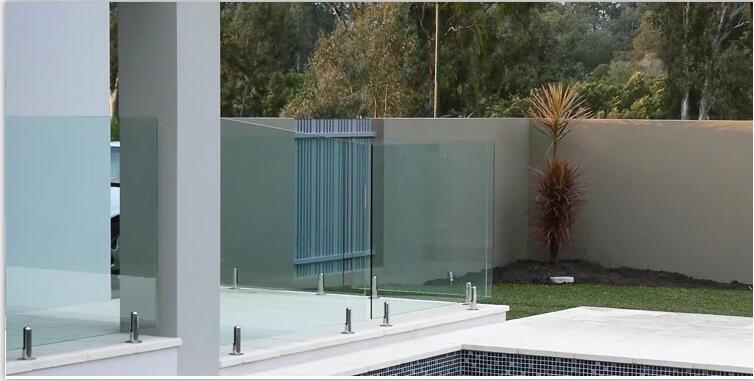 Stainless Steel Glass Spigot Surface Finish: Mirror Polishing or Satin Polishing
Stainless-Steel-Glass-Spigot-Surface-Finish-Mirror-Polishing

Stainless-Steel-Glass-Spigot-Surface-Finish-Satin-Polishing
  Mirror Polished Stainless Steel Glass Spigot
Satin Finished Stainless Steel Glass Spigot
In the case of mirror polishing, it creates a reflective surface with brilliant shine. This is achieved by pre-grinding the metal to remove surface defects, and then bright-buffing the metal. The result is a smooth, reflective finish that shines even with the least bit of light.
  
 A satin finish lacks the brilliant sheen of a mirror polish finish. This is a form of brushed metal that is created by polishing the metal with a 120 to 180 grit belt before it is softened with a lower-grit greaseless compound or abrasive pad.
 Mirror polished stainless steel glass spigots are particularly good for outdoor applications, if only because they are so easy to clean. The fact that the surface is so smooth means that dust, dirt and grit are easily wiped off with a clean cloth. For coarser finishes, small particles of dust and dirt can easily get caught in the surface grains, but this simply is not an issue with a mirror polish glass spigot.
Satin finish stainless steel glass spigots have a high aesthetic value. The resulting surface has a silky matte finish without any clear grit lines or grinding scores. This is often perceived as a bit more tasteful or even more restrained than a mirror polish.
 The upside to a satin finish stainless steel glass spigot is that the surface is not reflective means that a small amount of dirt or oil will go largely undetected. In other words, you won't have to wipe it down as often as a mirror polish Glass Spigot.
Why choose our stainless steel Glass Spigots
  We are stainless steel Glass spigots manufacturer with 20 years experience. We have exported to USA, Japan, AU, UK and Europe.Our stainless steel investment casting process has better surface finish. close tolerances and complex parts. OEM or ODM as your requirement,such as printing your logo, assembly .Stainless steel casting provides you with tremendous design flexibility
  Choosing our Company, you'll benefit from:
  • We are direct stainless steel foundry for manufacturing spider fittings.We can customize any type spider fittings with reduced material and labor costs.
  • The dimensional tolerance controlled as precision as CT5 level.
  • A variety of stainless steel grades can be used to cast spider fittings.
  • All the moulds for casting spider fittings are automatic.Save the unit cost of spider fittings. Shorting lead time.
  • More value added services like mirror polishing, machining, finished spider fittings to our customers.
  • Near Qingdao habour in China.Less shipping cost and delivery time.
Kindly contact us freely if you have any inquiry for Stainless Steel Glass Spigot!