Fluid accessories Valve and pump Parts
  Fluid machinery refers to a machine that uses a fluid as a working medium for energy conversion. There are two major categories: one is the prime mover that converts the energy of a fluid into mechanical energy and outputs the power of the shaft. Such as turbines and steam turbines. The other type is the energy that converts mechanical energy into fluid, which is called a working machine. Such as pumps and compressors. The working medium of the pump is liquid, and the working medium of the compressor is gas.Fluid is actually a general term for gases and liquids.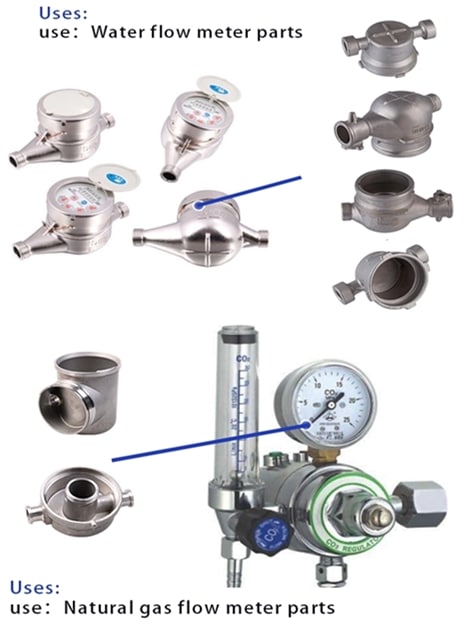 Ball valves, heat exchangers, steam samplers, MTG hoses are all fluid accessories and equipment. These devices often appear in our lives. but they are not noticed by us, and unless they fail, we can hardly think of them.
we are a investment casting foundry with iso 9001.2015 certificate. the Typical investment casting products we did.
  Fluid Accessories Valve Parts by Investment Casting and CNC Machining
  Stainless Steel Casting and CNC Machining Beer Equipment Accessories
  CNC Machining Stainless Steel Wine Spear Parts
  Food Grade Stainless Steel Beer Spear Parts
  Good Quality Stainless Steel Transmission Shaft
  CNC Turning Milling Steel Drive Shaft, Sprocket Shaft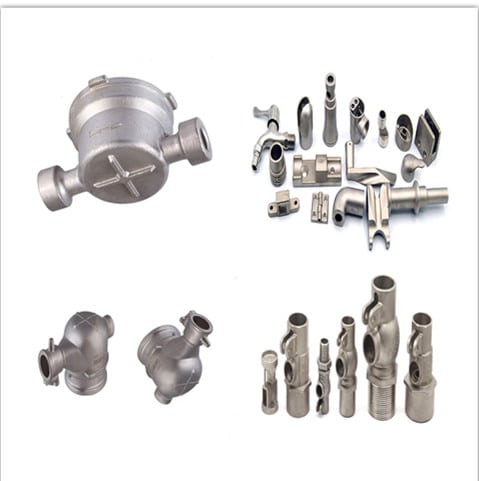 7-4PH Stainless Steel Fluid accessories Valve Parts by Investment Casting and CNC Machining
| | |
| --- | --- |
| Product Name | First-Class Investment Casting 17-4PH Stainless Steel Fluid Management Metal Parts |
| Processed by | Silica Sol Investment Casting |
| Machining Selection | CNC machining / lathing / milling / drilling / turning /grinding / shaping / boring |
| Heat Treatment Selection | Normalizing / Annealing / Quenching / Tempering / Solid Solution / Quenching+Tempering / Precipitation Hardening / Nitriding / Carburizing / Carbonitriding |
| Surface Finish Selection | Pickling, Passivation, Shot Blasting, Sand Blasting, Grinding, Plating, E-polishing, Mirror Polishing, Dull Polishing, Zinc-plating, Black Oxide,Anodizing Powder Coating, Spray-paint, Cataphoretic, Electrodeposition, Chromeplate, Nickel plating, Teflon Coating |
| Material Selection | Carbon Steel, Low Alloy Steel, Stainless Steel, Duplex StainlessSteel, Heat-resistant Steel , Tool Steel, Copper Alloy, AluminiumAlloy, Nickel-base Alloy, Cobalt-base Alloy |
| Material Standard | Including but not limited to: AISI,ATSM,UNI,BS,DIN,JIS,GB for more metal selection, please contact us for the Metal Selection List |
| Tolerance Standard | VDG P690 D2 Please contact us for our General Casting Tolerance Standard |
china investment casting foundry and cnc machining supplier
  We have 4 factories.one is investment casting foundry, another one is cnc machining.Below is the basic info about our investment casting and cnc machine product.
| | |
| --- | --- |
| Machining | Milling, Drilling, Turning, Stamping, Bending, Laser cutting.Wire EDM,Broaching,Punching Boring, Lathe, CNC machining Center. |
| Surface treatment | Painting, Polishing, Plating, Heat Treatment, Galvanized Zinc Anodized, Oxide, Brushing,Blackened, Powder coating, Sandblasting, Laser engraving etc. |
Performance
High precision, high wear resistance, low noise, smooth and steady, high strength
Standard
AISI, ASTM, JIS, BS, DIN, ISO
Size&Design
As per the customer's drawings and requirements
As per the customer's samples
Material: Aluminum, Steel, Stainless steel, Alloy Steel, Brass, Copper, Bronze, ABS, PC, PO, POM, Nylon, Teflon etc.
| | |
| --- | --- |
| Steel | 1018,1045,1050,1117,1141,1144,11L17,11L41,1215,12L14,4140, 4142,41L40,41L42,8620,86L20,E52100,Fatigueproof,Incut 100,Stressproof |
| Stainless steel | 17-4PH,302,303,304,316,321,416,440 |
| Aluminum | 2011,2024,6061,6063,6262,7075,5052 |
| Copper | 110,145,147,314,316,360,544,624,Beryllium Copper |
| Zinc | zinc, zinc alloy |
| Plastic | ABS, Acetal,Celcon,Delron,Nylon,Teflon |
| Other | Bronze,Brass,Hardened metal,Precious metal |
Product Application industry
  Shafts Auto parts, Marine hardware, Building Hardware, Furniture Hardware(Door and Window Accessories), Lighting Hardware, Fire Fighting Equipment Hardware Fittings, Valves & Pump Parts, Machinery Parts, Food Machinery Parts, Hardware Accessories, Medical Equipment Hardware, Tableware Hardware, Pipe Joints and Fittings, Glass Curtain Wall Hardware Fittings, Bathroom Hardware, Coffee Machine Accessories, Locks Hardware, Beer Equipment Accessories
Main Parts List we can supply.
  1. Stainless Steel Investment Precision Castings
  Auto Parts, Pump Parts.Valve Parts. Food Machinery Parts,Flange & Pipe Fittings.
  Door Hinges. Shaft etc.
  2. Sand Cast Iron& Ductile Iron Castings
  Automotive parts, Railroad parts,Valve&Pump body, Hydraulic parts, Gear&Pulley
  Outside Funiture (Cast iron Chair Leg. Cast Iron Bollard,Cast Iron Manhole Cover,Iron Art),
  3. Forgings
  Forging Ring, Forging Blank, Forging Shaft, Forging gear blank, Forging Wheel,
  Forging Cover, Forging Bushing&Sleeve,etc.
  4. CNC Machining Center
  As above. The finished machining after Castings or Forgings.
  5. Aluminium Casting parts
  Automotive parts, Railroad parts,Valve&Pump body, Hydraulic parts,Impeller,Bollard,
  Gear&Pulley etc.
  FAQ
  Q1. Are you a manufacturer or a trading company?
  A1. We are a professional manufacturer with over 23years' export experience for designing and producing metal castings.
  Q2. What is your MOQ?
  A2. It is according to you, usually it is 1000 units.We accept small quantity..
  Q3. What is the delivery time for the sample?
  A3. It is according to the sample, usually it is 25 to 35 days.
  Q4. What is the thinnest wall thickness you can cast?
  A4. By special technology,like ceramic core/soluble wax,we can cast the wall thickness at 0.5-0.8mm.
  Q5. What is the range of the weight you have casted?
  A5. The weight we can cast from 0.001kg to unlimited.