JC Casting is a China Aluminum die casting manufacturer and supplier in China. We can produce many types of aluminum alloy die casting. Our main die casting method is Gravity Die Casting: High-Pressure Die Casting, Low-Pressure Die Casting.
What is Aluminum Die Casting
Aluminum die casting is a metal-forming process. It is not made by gravity, but by pressure. The liquid aluminum is injected into a mold which is made up of two halves. After the molten aluminum has solidified, separate the cast aluminum part. To get the die casting part.
Advantage and Disadvantage of Aluminum Die Casting
1. Products quality
High dimensional accuracy. Equal to ISO CT6~CT7. Even up to CT4.Better surface finish.High strength and hardness. The strength is 30% higher than that of the sand mold. But the elongation is reduced by about 70%. Dimensionally stable. Thin-walled complex castings are better.
2. High production efficiency
Die-casting aluminum parts 3000~7000 times. Days.
3–Low Mold Cost.
Aluminum die-casting molds have a long life. Up to hundreds of thousands of times, or even millions of times.
3. Less secondary machining
Due to their precise dimensions and good surface finish, aluminum die castings generally do not need or rarely require machining after casting.
It not only improves the utilization rate of the metal. And reduce a lot of machining equipment and man-hours. This is why aluminum die casting is cheaper than the aluminum sand casting process.
Disadvantages
Aluminum die casting is not suitable for small batch production.The main reason is the high manufacturing cost of die-casting aluminum molds. Small batch production is not economical.
For smaller aluminum castings, the aluminum gravity casting process is an option.
CHINA ALUMINUM DIE CASTING MANUFACTURER
At JC Casting factory, custom aluminum die casting service is our focus point. We produce die casting parts based on your drawing. We have a matura design and producing team. We can finish your order in a short time. JC Casting Foundry has lean production management mode, IATF16949 and ISO9001 quality system to guarantee quality and fast delivery.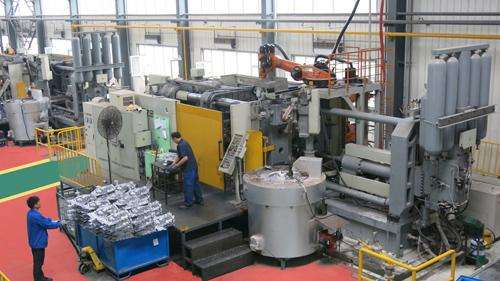 ALUMINUM DIE CASTING MANUFACTURER Capability
1–Materials Choosing
Common aluminum die casting materials : ADC12, A380, A360, etc.
customize material according to our customer's requirements.
2–Equipment
Die Casting Equipment

180T, 300T, 500T, 800T die-casting machines
Automatic mechanical arm and transmission devices.
Machining Equipment
10 sets imported CNC machining centers,
CNC lathes
Drilling machines,
Ultrasonic cleaning
Drying lines.
3–Surface Finishing
A post-treatment workshop, sandblasting, shot blasting and other processes (including powder coating, oxidation, electroplating, passivation, grinding).
Casting Capabilities
4–Aluminum Die Casting Dimension AND Range
The minimum wall thickness 0.8mm-1.0mm
The largest size 1000mm * 500mm
The minimum weight 10g
The Maximum weight 10kg
5–Machining Accuracy
Dimensional accuracy 3 ~ 5 um
Flatness 5 um
Parallelism 5 um
Verticality 5 um
Concentricity 5 um
If you want to get a good China ALUMINUM DIE CASTING MANUFACTURER, contact us. You will get your partner. Email: [email protected]