China Stainless Steel Foundry
Who we are?
We are a China stainless steel foundry with 23 years of history. we have 2 precision casting companies with a full investment casting supply chain. stainless steel casting is our advantage project. With strictly investment casting systems, high stainless steel solution, and stainless steel investment casting process. we have provided different stainless steel castings for 45 countries more.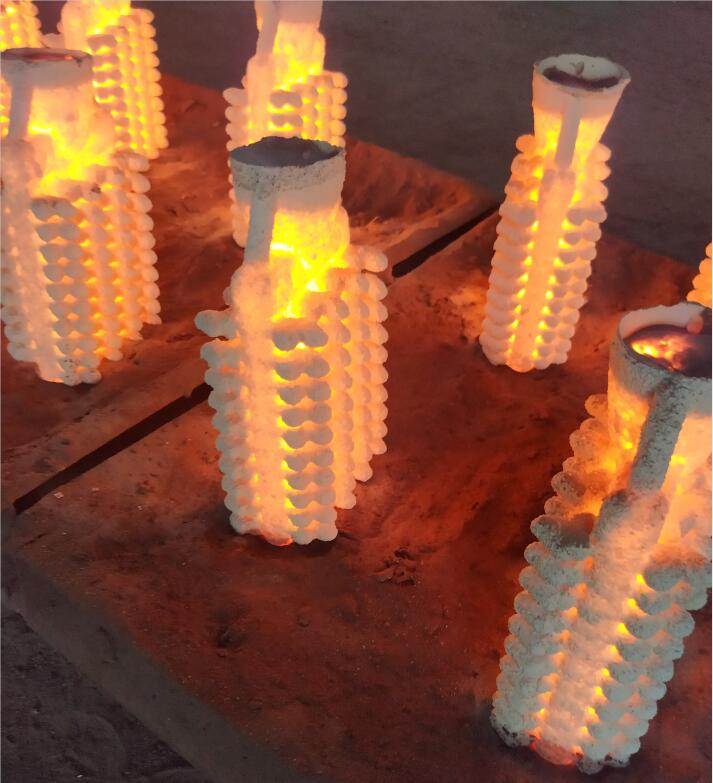 Why Stainless Steel Investment for Casting?
In Stainless Steel Foundry, different grades and types of stainless steel are popular for the manufacturing of stainless steel castings. Why stainless steel is so popular in the investment casting process? What advantages does it have? Here we list out the advantages of Stainless Steel for reference.
| | |
| --- | --- |
| Corrosion resistance: | All stainless steels have high corrosion resistance. Low alloyed grades resist corrosion in atmospheric conditions; highly alloyed grades can resist corrosion in most acids, alkaline solutions, and chloride-bearing environments, even at elevated temperatures and pressures. |
| High and low-temperature resistance | Some grades will resist scaling and maintain high strength at very high temperatures. while others show exceptional toughness at cryogenic temperatures. |
| Aesthetic appeal | Stainless steel is available in many surface finishes. It is easily and simply maintained resulting in high quality, pleasing appearance. |
| Hygienic properties | The cleanability of stainless steel makes it the first choice in hospitals, kitchens, food, and pharmaceutical processing facilities. |
| Life cycle characteristics | Stainless steel is a durable, low maintenance material and is often the least expensive choice in a life cycle cost comparison |
What we can do in our stainless steel casing foundry ?
We are a comprehensive company that can supply all related services for stainless steel investment castings, such as mold making, casting, heat treatment, machining, surface finish, custom package, and so on. All these services enable us to become a one-stop shop for stainless steel castings. This is our big advantage over most china stainless steel foundry. Because most of china's investment casting foundry is good at stainless steel sand casting. And they are also limited to supply stainless steel casting blanks. They are neither any other value-added services. If they want to finish post-treatment, they have to look for a machining factory. But we have our own CNC factory. So on stainless steel cost comparing, we have most advantage.
Our stainless steel casting process is lost wax investment casting. It is better than sand casting. For there different. welcome, check investment casting VS sand casting.
What Added Services can be provided in our Stainless Steel Foundry?
| | |
| --- | --- |
| Heat Treatment | There are a variety of heat treatment methods used for investment castings. But for stainless steel castings, the only heat treatment method is solution treatment. It is used to improve the inner structure and will be convenient for post-machining. Our Stainless Steel Foundry has its own solution treatment shop, so we can do heat treatment in-house directly, which can save both time and money. |
| Elements Analysis | We have a spectrometer made in German. The Chemical Elements Analysis can be done before or during production or after finishing. |
| Machining Capability | Although the size accuracy of stainless steel castings is higher than other castings. Sometimes, machining is still required after casting, such as machining threads, drilling holes. Equipped with various machining facilities including CNC centers. We can do different machining operations in our stainless steel foundry. |
| Surface Treatments | To improve the surface finish of stainless steel castings, our foundry can provide all kinds of surface treatments for stainless steel castings. Such as Shot blasting, Electroplating, Mirror polishing, Vibratory polishing. |
What stainless steel types and grades we choose?
| | |
| --- | --- |
| Types | Main Applications |
| Stainless steel 304 | The most common of austenitic grades, containing approximately 18% chromium and 8% nickel. It is used for producing stainless steel casting components for chemical processing equipment, for food, dairy, and beverage industries, heat exchangers, and milder chemicals. |
| Stainless steel 316 | Contains 16% to 18% chromium and 11% to 14% nickel. It also has molybdenum added to the nickel and chrome of the 304. The molybdenum is used to control pit-type attacks. Type 316 is used in chemical processing, the pulp, and paper industry, for food and beverage processing and dispensing, and in more corrosive environments. The molybdenum must be a minimum of 2%. |
| Stainless steel 410 | Basic martensitic grade, containing the lowest alloy content of the three basic stainless sheets of steel (304, 430, and 410). Low cost, general-purpose, heat treatable stainless steel. Used widely where corrosion is not severe (air, water, some chemicals, and food acids. Typical applications include highly stressed parts needing the combination of strength and corrosion resistance such as fasteners. |
Besides the above stainless steel grades, our Stainless Steel Foundry can also customize duplex stainless steel castings and super duplex stainless steel castings.
Parts stainless steel investment castings we produced
stainless steel spigots
stainless steel impeller
stainless steel pump
If you have any stainless steel investment casting inquiries. Contact us, you will get a fast answer within 18 hours.