304 stainless steel and 316 stainless steel—What's the difference?
Selecting the best grade for stainless steel investment casting can mean longer lasting performance, especially in challenging corrosive environments.304 and 316 are the two of the most widely used stainless steel casting grades in the world. For 304 stainless steels and 316 stainless steels,There is no such definition of "which is good" because different stainless steel materials have different uses.The difference between 304 stainless steel and 316 stainless steel is as below.
1-Different chemical composition:
  304 is Gai's stainless steel . Its material composition is OCr18Ni9. 304 Stainless steel: C ≤ 0.08 Ni 8.00 to 10.00 Cr 18.00 to 20.00, Mn <= 2.0 Si <= 1.0 S <=0.030P <=0.035.
  316 is Austenitic stainless steel.The material composition is OOCr12Mo2Ti. 306 Stainless steel C≤0.08 Ni10.00~14.00 Cr16.00~18.00, Mo2.00—3.00 Mn<=2.0 Si<=1.0 S<=0.030 P<=0.035 And 306L stainless steel C≤0.03 Ni10.00~14.00 Cr16.00~18.00, Mo2.00—3.00 Mn<=2.0 Si<=1.0 S<=0.030 P<=0.035.It is a low carbon stainless steel with titanium-containing, resistant to alkali and acid (except medium containing chloride ions).
  The Big difference between 304 and 316 is that 306 stainless steel has 2-3 more nickel than 304 stainless steel.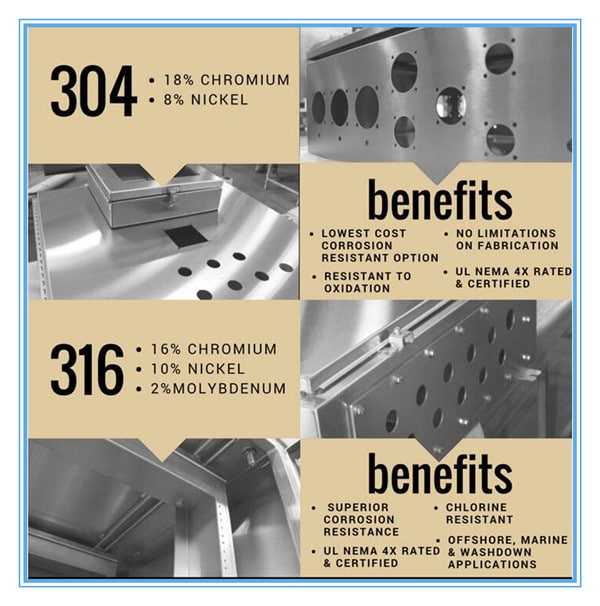 2. Performance is different:
  304 steel can resist corrosion by sulfuric acid, phosphoric acid, formic acid and urea. Applicable to general water, control gas, wine, milk, CIP cleaning liquid and low occasions or no corrosive materials.
  The 316L steel grade adds molybdenum based on 304 Steel. It can significantly improve its resistance to intergranular corrosion and oxide stress corrosion. It also reduces the hot cracking tendency during welding. It also has good resistance to chloride corrosion.
  It is often used in applications of pure water, distilled water, medicines, sauces, vinegar, etc.With high hygienic requirements and strong media corrosion resistance.The price of 316L is almost twice than 304.
On Mechanical properties: 304 is better than 316L. Because 304, 316 has excellent corrosion resistance and heat resistance. It is widely used as stainless steel. 304,316 has similar strength and hardness.
  The difference between them is that the corrosion resistance of 316 is much better than 304. The more important point is that molybdenum metal is added to 316. The molybdenum metal can improve its heat resistance prosperity.
  3. Different maintenance methods:
  We can use electroplating or oxidation-resistant metals to ensure the carbon steel surface, but this protection is only a film. If the protective layer is destroyed, the underlying steel begins to rust.
  The corrosion resistance of stainless steel depends on the chromium element. When the amount of chromium added reaches 10.5%, the atmospheric corrosion resistance of stainless steel will increase significantly. But if the chromium content is higher, it still can improve certain corrosion resistance. But not obvious.
  The reason is that this treatment changes the type of surface oxide to a surface oxide like that formed on pure chrome metal. But this oxide layer is very thin. Through it, you can directly see the natural luster of the steel surface. To give stainless steel a unique surface.If the surface is destroyed, the exposed steel surface will react with the atmosphere. This process is actually a self-repairing process. Re-forming this passivation film can continue to protect.
  Therefore, all stainless steels have a common characteristic. The chromium content is above 10.5% and the preferred steel grade also contains nickel. Such as 304 .If the addition of molybdenum can further improve atmospheric corrosive. Especially against chloride-containing atmospheres. That is 316.
What is the 304 Stainless Steel Types and Applications?
304 Stainless Steel Types
Different Applications
Stainless Steel 304 (S30400):
 
Low-carbon modification of type 302 for restriction of carbide precipitation during welding. Chemical and food processing equipment; brewing equipment; cryogenic vessels; gutters; downspouts; flashings.
 Stainless Steel 304L (S30403):
Extra-low-carbon modification of type 304 for further restriction of carbide precipitation during welding. Coal hopper linings; tanks for liquid fertilizer and tomato paste.
What is the 316 Stainless Steel Types and Applications?
| | |
| --- | --- |
| 316 Stainless Steel Types | Different Types' Applications |
|  Stainless Steel 316 (S31600): | Higher corrosion resistance than types 302 and 304; high creep strength. Chemical and pulp handling equipment; photographic equipment; brandy vats; fertilizer parts; ketchup cooking kettles; yeast tubs. |
|  Stainless Steel 316L (S31603): | Extra-low-carbon modification of type 316 Welded construction where intergranular carbide precipitation must be avoided. Type 316 application requiring extensive welding. |
|  Stainless Steel 321 (S32100): | Stabilized for weldments subject to severe corrosive conditions, and for service from 800 to 1600 F. Aircraft exhaust manifolds; boiler shells;process equipment; expansion joints; cabin heaters; fire walls; flexible couplings, pressure vessels. |
  We are a professional stainles steel foundry in China with 22 years history.We can make all types of stainless steel castings, not only limited to 304 and 316, but can also make stainless steel investment castings with other grades, such as PH17-4, CG8M, 2205, ect. Any project or product about stainless steel casting, welcome contact us freely.
Related Products: